Greetings LIGHT captains!
Welcome to phase 4 of the big 1.0 update of Idle LIGHT: the last gods.
Here is a brand new list of changes, additions and fixes!
Thank you so much for testing this version and translating the game to different languages!
CHANGELOG: BUILD #0069
New Dimensions!
+ added 24 new dimension shapes to the game!!
+ added the all new UI 3.0 design to the dimension menu
WARNING: You will lose your Dimension progress when you first install this beta version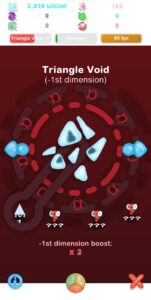 + there are now 6 dimensions
+ each dimension holds 4 different dimension boost shapes
+ you need to level up these boost shapes in order to dive one layer deeper into your dimension
+ dimension boost increases with every level of all shapes
+ click one of the shapes to activate it and collect sources for it
+ new dimension shapes cost sparks
New Special Upgrade: Source Division

+ sometimes a source is ready for division!
+ collect such a source and tons of new sources from the same type appear
+ very good to get new superiority levels
Cyber Crystal Menu UI 3.0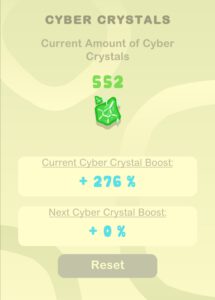 + Cyber Crystals are back and functional!
+ generate LIGHT to get new Crystals and reset your progress to really own them
+ Cyber Crystals give you a big boost to your LIGHT production
More additions & bug fixes
+ added: a new background music – BEACH THEME
+ added: the all new social media sprites

+ changed: design of plenty of popups
+ changed: design of notifications
+ changed: lowered offline production
+ added: new click animation to upgrade buttons
+ added: danish translation for "More Fuel" upgrade
+ added: german translation for "Source Numbers" setting
+ fixed: stats did not save and load correctly
+ fixed: sources did not save and load correctly (sometimes)
+ fixed: boost tokens appear now on your main screen again
+ fixed: collect sounds are now turned off, when soundeffects are turned off
What's next?
The cosmic Star Map is back now. But in version 1.03 you can only jump between planets! Update 1.04 will change that!
The next update will heavily change the visuals of the star map.
We will see new items, like fuel packs, which you need to travel between the stars.

I hope you are looking forward to that!
Check out the Idle LIGHT Twitter account here.
Check out the Idle LIGHT Instagram account here.

Leave a like and follow 🙂
Thanks for reading and stay safe!
Chrispyrion